News
Kingston celebrates new solar farm
Monday, October 27th, 2014
http://www.knoxnews.com/news/local-news/kingston-celebrates-new-solar-farm_83400947?autoplay=trueor special characters)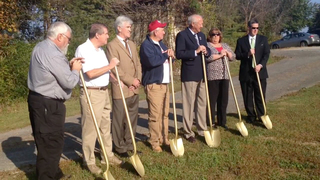 KINGSTON — Motorists coming into Kingston on Highway 58 will soon glimpse in a nearby field a sea of blue solar panels surrounding black panels forming the letter K for Kingston.


"It will be very tastefully done," vowed Ronald B. Merville Jr., president and CEO of Energy Source Partners, a six-year-old company that's teaming up with cities in Tennessee on public-private solar projects.
The 200-panel solar farm on the 2.78-acre site of Kingston's former water treatment plant will be the city's latest venture into solar energy and is expected to yield some $1 million in energy savings for the city over the next 20 years.
City officials Monday morning did the ceremonial groundbreaking for the project, located across from the city's water treatment plant, where an initial 50 solar panels were installed in 2013.
Combined, the solar projects will generate enough electricity to offset the $50,000 annual power cost to operate the water plant "at absolutely no cost to the ratepayers," Kingston Mayor Troy Beets said. "This is a tremendous event for the city of Kingston."
"I'm proud of what Kingston is going to make Roane County greener," said Wade Creswell, president and CEO of the Roane Alliance, the county's economic development group.
Merville said the new 200 kW solar farm will produce the equivalent of enough electricity to run nearly 100 homes. Electricity generated by the solar panels will flow into TVA's power grid, and TVA will cut a check monthly to the city for the added supply, he said.
He said the construction contract is $560,000, and until that cost is paid back in some six to seven years, 90 percent of the power revenue will flow to his company and 10 percent to Kingston.
After that, the city will recoup 90 percent of the revenue, and Energy Source Partners will receive the balance. During the 20-year contract, his company will be responsible for operating and maintaining the solar farm, Merville said.
When the contract runs out, it can either be renewed or Kingston can decide to buy the solar farm, he said.
Merville said the solar panels — the latest iterations of a technology that's changing rapidly — are made by Sharp Electronics of Memphis. "We try to buy from Tennessee companies every chance we get," he said.
He said his firm recently installed a guitar-shaped solar farm on the roof of the Music City Center in Nashville and is about to launch 1,000 kW solar farms in cooperative ventures with the cities of Franklin and Lebanon, Tennessee.